Meet The Team
Nick is The Bee Shepherd and founder of Frangiosa Farms
Nick French is the owner of Frangiosa Farms. He is a U.S. Marine Corps veteran and has gained knowledge through his time and travels in the U.S. Marine Corps and through traditional education. He has studied biology, tropical marine biology in Australia, microbiology, and finance. Nick is also passionate about urban farming and has a love of beekeeping that has grown over the years. He has been keeping bees since 2008 in urban farms, on rooftops, and in backyards. The farm that started it all, Frangiosa Farms, has over a hundred hives at the foothills of the Rocky Mountains.
As a beekeeper, Nick cares greatly for the health of the bees and their hives. He created Adopt a Honeybee, which is a donations-based program that helps safely shepherd bees and establish new bee colonies. Donations also go towards education for new beekeepers. As a beekeeper, Nick focuses on natural and sustainable beekeeping practices that consider the long-term effects of maintaining healthy bee colonies without the use of chemicals to treat the hives. Nick only uses essential oils and organic practices to treat the farms' hives.
As a beekeeper already, he knew there were excellent benefits for people in raw honey alone. He went on to learn the value of hemp and how he could combine that with the raw honey from his beehives. He also worked with his wife Ali, who is an aromatherapist, to include the additional benefits of essential oils. As a result, Colorado Hemp Honey was born in 2015. In every jar of Colorado Hemp Honey, each customer will experience the benefits of raw Rocky Mountain honey, full spectrum hemp extract, and essential oils.
Nick has found fulfillment by creating products that make a difference in people's lives. Using his extensive background, he has found a career that is very rewarding. He enjoys working with a like-minded team of people that have a diverse set of skills and values natural products like he does! As a beekeeper and business owner, Nick also holds backyard beekeeping workshops, presents to schools, and donates proceeds from Frangiosa Farms and Colorado Hemp Honey products to support Veterans to Farmers and Freedom Service Dogs of America.
Contact Nick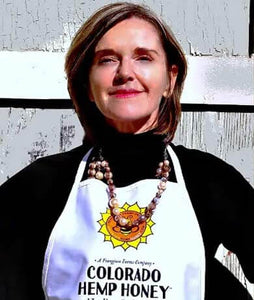 Ali is the Business Development Manager for Frangiosa Farms
Ali French has a career in sales, recruitment, and business development that spans the last 25 years. After graduating with a degree in Hispanic studies in the U.K., she traveled to Guatemala for three months where she met her husband, Nick. During her extensive career, she has helped bring franchisees on board, helped stores launch new products, conducted promotional campaigns, helped employees with sales and objections, lead recruitment efforts, lead product development and marketing, worked in international sales, and even owned a pet magazine! During this time, she also studied aromatherapy and massage and took on clients. She still serves a few clients to this day.
Ali uses many of her skills and talents from her career to help new stores be successful as they bring Colorado Hemp Honey to their shelves. She also uses her knowledge as an aromatherapist to add to the layering effects of Colorado Hemp Honey by adding essential oils. She enjoys working closely with the pet industry and educating about the benefits of Colorado Hemp Honey as a shareable product for pets and people. In her spare time, Ali enjoys practicing and playing the drums.
Contact Ali
Matt is the Marketing and Brand Manager for Frangiosa Farms
Matt Seres was born in Detroit and raised in Denver and is also a graduate of University of Colorado at Denver. He has spent his career in the worlds of specialty, natural, and organic foods. He has been with the company since the summer of 2017 and enjoys spreading the word about bees and their importance in our food system. In his spare time, he supports the arts and historical communities in Denver and supports local artists and musicians across many non-profit endeavors.
Contact Matt