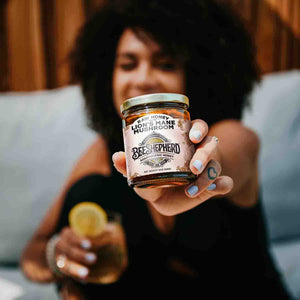 "I don't know that adaptogens work instantly, but conducting an impromptu honey tasting kept me from embarrassing my daughter in front of her friend."
---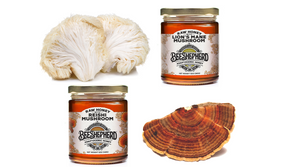 Dare to Bee Unique with Frangiosa Farms Mushroom Honey New Adaptogen Line of Honey Serves Up Function, Purpose, and Deliciousness   Nick French, Chief Bee Shepherd at Colorado-based Frangiosa Farms, is making magic happen in Colorado by launching his company's newest line of adaptogen-based honey, mushroom-infused varieties.  At first, it sounds a bit mystical - combining mushrooms and honey. Still, the nutrient-packed blend makes a perfect culinary complement to beverages, baked goods, foodie-inspired cheese boards, charcuterie platters, and other culinary delights. Fans of sweet and savory should note the earthy yet mellow undertones in Frangiosa Farms mushroom honey. Reishi and Lion's...
---

Colorado-based Frangiosa Farms Launches Adaptogenic Bee Shepherd Brand Honey at the Summer Fancy Food Show, Booth #7056, June 12th-14th, 2022  From the Field to Hive to Manhattan: Trade Show Attendees Invited to Experience the Unique Flavors of Lion's Mane & Reishi Mushroom Honey Infused with Herbal Extracts and On-trend Ingredients  Parker, CO (June 2, 2022) -  Frangiosa Farms – the makers of Colorado Hemp Honey, is pleased to announce the launch of its newest artisan line of adaptogenic Bee Shepherd Brand Honey at this year's Summer Fancy Food Show, Booth #7056, taking place June 12th-14th at the Javits Center in...